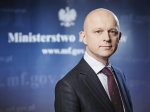 Born on 24th January 1969, Paweł Szałamacha graduated from the Faculty of Law and Administration at Adam Mickiewicz University in Poznan and from College of Europe in Bruges (Belgium). He completed legal training at OIRP in Poznan, after several years of practice in the international law firm, he suspended in 2004, and then ended the career of counsellor. He finished one-year studies of public management at the John F. Kennedy School of Government at Harvard University, receiving the degree of Master in Public Administration (Mid-Career MPA).
From 2005 to 2007, Deputy Minister of Treasury in the government of Law and Justice. Co-founder of the Sobieski Institute and its president from 2008 to 2011. Member of Parliament of the seventh term from Piła constituency, member of the parliamentary committee of the Treasury and Public Finance. In 2010 Paweł Szałamacha joined the National Development Council at the President of Poland Lech Kaczynski.
Mr. Szałamacha is married.
He is interested in the history of economic systems and politics, transport and urban planning. Co-author of the script shortcut (a treatment) for unrealized film "Things Men Die For" about pilots in the Polish-Bolshevik war.
In 2009 his book "IV Republic. The Opening " was published. He enjoys hiking in the woods and mountains.